15 - Concrete foundation slab edge insulation with SIPs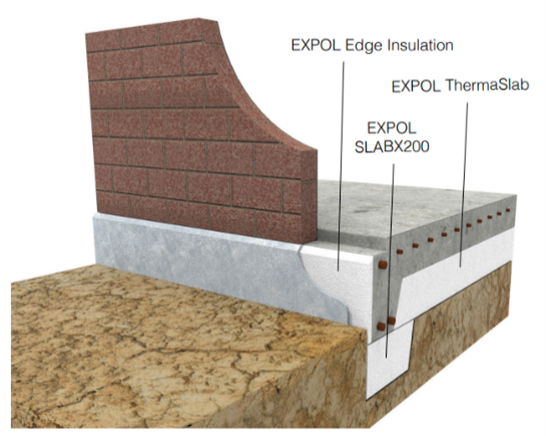 Minimizing thermal bridging (part of the building envelope with little insulation), is vital to achieving optimum energy performance in a building. There are many parts of the building envelope where thermal bridging can occur. One area that is particularly prone to heat loss is the edge of the concrete slab. To minimize these losses, slab edge insulation can be installed.
Slab edge insulation is a continuous thermal insulating barrier fixed to the outside edge of the concrete slab. Two common thicknesses of edge insulation are 30mm and 50mm. There are various proprietary systems available, each of which will have their own specification guidance to be followed.
For most cladding systems to work properly the outside of the wall framing must be placed in line with the outside edge of the slab, this includes the slab-edge insulation. Being non-structural the insulation cannot support the vertical wall loads, resulting in the edge of the wall cantilevering out by 30 or 50mm from the edge of the concrete. This also reduces the width of concrete available to be used for bolting the wall bottom plate to the slab. This bulletin outlines acceptable ways to overcome this issue and ensure sound connections between the wall plate and the concrete slab.
Edge insulation affects the way the Formance wall connects to the slab in two ways. How the sill plate is detailed, and what panel thicknesses can be used.
Sill plate
Edge insulation does not provide structural support, which means the sill plate is cantilevering out past the edge of the floor slab
To be able to support the cantilever the sill plate needs to be increased in thickness from the standard 18mm plywood to 35-45mm SG8 timber. Treatment of the sill plate needs to be H3.2 as per Formance standard details.
Choose sill plate thicknesses from the table below.


| | |
| --- | --- |
| Edge Insulation thickness | Sill plate thickness (H3.2 – SG8) |
| 5mm - 30mm | 35mm |
| 30mm – 50mm | 45mm |
| Above 50mm | SED |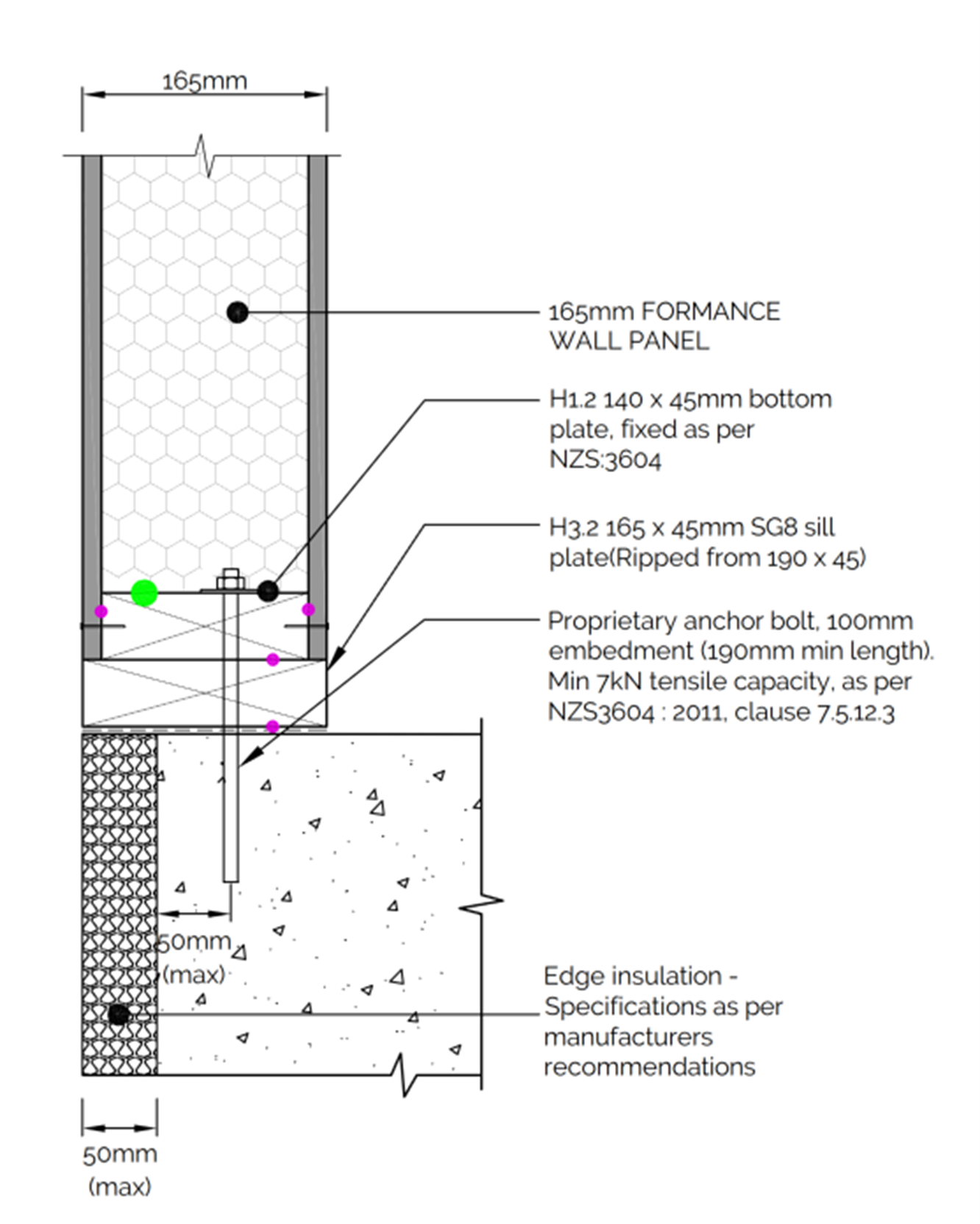 Panel thickness
Edge distances of hold-down bolts also needs to be considered.

NZS3604: 2011 specifies a minimum offset of 50mm between the edge of the slab and the hold-down anchor.

When using any edge insulation, the Formance wall SIP needs to be a minimum of 165mm thick as per Figure 1 below.