2 - Truss design for Formance ceilings
Technical Bulletin #02
Created 04/09/20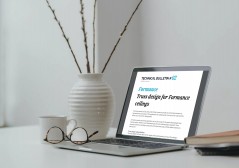 Truss design for Formance ceilings
Formance panels can be used under timber trusses to provide an economical solution for high performance housing. In this application the ceiling panels sit on top of the walls and the trusses sit on top of the ceiling panels.
Formance panels used in this application rely on the trusses for the spans and typically have thermal splines. Where a wall is load bearing to the truss solid blocking is required. This is typically achieved by locating a panel joint at this point and using a timber spline instead of a thermal one.
Truss design responsibilities:
The truss design must also allow for the weight of the ceiling panels to ensure the ceiling is not beyond the expected deflection limits. Panel weights can be used from the below table.
| | |
| --- | --- |
| PANEL THICKNESS | WEIGHT (kg/m²) |
| 115mm | 15.2 |
| 165mm | 16.2 |
| 215mm | 17.2 |
| 265mm | 18.2 |
| 315mm | 19.2 |
Truss to Formance panel connection options:
We have 2 pre-engineered options for fixing Formance panels to trusses, as per diagram below.
A PS1 is available on request to include with your building consent application.
CONNECTION OPTION 1: - Formance screws with load bearing washers are fixed through from the underside of the panel to the truss.
CONNECTION OPTION 2 – Pairs of CPC 40's from the panel to the truss.
Please indicate clearly on the design documentation where there are any load bearing walls requiring a panel joint. This can be taken into consideration when producing job-specific panel layout drawings for manufacturing purposes.
Want to discuss your project? Get in touch here.
Looking for a builder? Check out our build partners around the country