Mid Build Open Home - Morrinsville, Waikato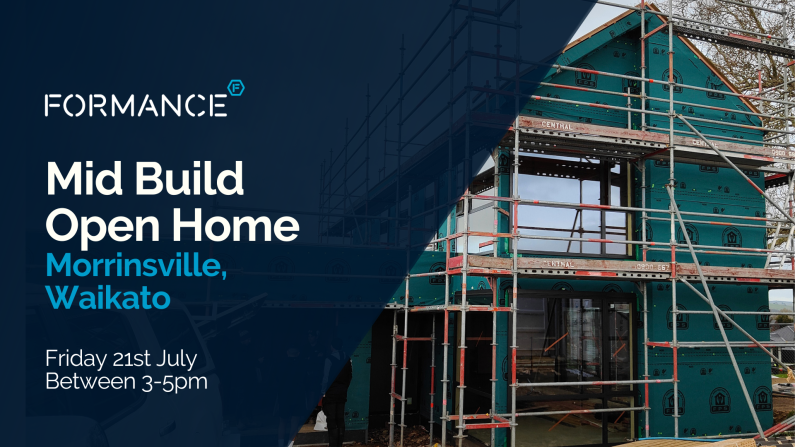 Discover the exciting world of sustainable homes at a special event in Morrinsville, Waikato. Get inspired by innovative building practices that prioritize energy efficiency and environmental responsibility. Join us to learn from industry experts and explore the future of eco-conscious construction.
Event Details:
Date: Friday, 21st July Time: 3:00 PM to 5:00 PM
Location: Morrinsville, Waikato (Further details provided upon registration)
Who Will Be There: Engage with members from Formance and Higgs Building Co, renowned for their expertise in Structural Insulated Panels (SIPs) and energy-efficient home construction. Shaun Higgins, a passionate Passivhaus builder, will be present to share his insights and principles in sustainable design.
Discover the Benefits: Learn about the advantages of SIPs in creating energy-efficient homes. Explore enhanced insulation, superior thermal performance, reduced energy consumption, and lower utility costs. Gain valuable knowledge to shape your future building projects.
Registration and Cost: Attendance is free, but registration is required. Secure your spot by visiting the event registration page here and join fellow enthusiasts in building a greener future.
Important Information: Follow on-site signs and instructions for your safety, as the showcased home is currently mid-construction. Please remember to sign in upon arrival for an organized experience.
Don't miss the opportunity to explore the future of sustainable living in Morrinsville. Join us on Friday, 21st July, to connect with industry experts and learn about energy-efficient construction. These are homes that prioritize both comfort and environmental responsibility. These homes will also be up for sale once completed!