1 - Fixing Plasterboard to SIPs
Technical Bulletin #01
Created 04/08/20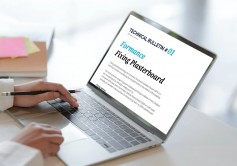 Fixing plasterboard linings to Formance Structural Insulated Panels (SIPs) is a common solution to achieving the required finish on the interior of the building.
The most common range of gypsum plasterboard linings available in New Zealand are manufactured by Winstone Wallboards Ltd.
Formance SIPS have 11mm (nominally) Oriental Strand Board (OSB) on both sides, providing an excellent robust surface for fixing linings such as GIB® plasterboard.
Fixing options:
Plasterboard can be fixed horizontally or vertically, either directly, or to battens that are fixed to Formance SIPs.
Note: These fixing options address the installation of 10 & 13 mm GIB® Standard, GIB Aqualine® or GIB Ultraline® plasterboards, (as described in the 'GIB® Site Guide'). Alternative system specification and installation details may differ when performances such as Sound Transmission Class (STC) and Fire Resistance Rating (FRR) are required.
Plasterboard fixed to battens on Formance SIP's:
Nominal 70 x 35mm timber battens or steel battens can be fixed to Formance SIPs using 10g timber screws fully threaded & embedded in the OSB. Fastener length is determined by the thickness of the batten, the screw is to fully penetrate the 11mm OSB.
Fixing centres are as follows,
Battens @ 400mm centres – fixings to be @ 600mm centres.

Battens @ 600mm centres – fixings to be @ 400mm centres.
Double screws to panel perimeters.
When installing gypsum plasterboard to battens, usual fixing recommendations apply. Consult the 'GIB® Site Guide' for details. The screw and glue fixing method is recommended for the best quality of finish.
Plasterboard direct fix to Formance SIP's:
When installing gypsum plasterboard direct to Formance SIPs, the installation instructions detailed in the GIB® Site Guide generally apply with the following additional requirements.
Off-set plasterboard joints from Formance SIPs joins by a minimum of 200mm.

Use 32mm GIB Grabber HT screws for both 10 and 13mm GIB

®

Nail fixing of gypsum plasterboard linings to Formance SIPs is not acceptable

Place screws generally at 300 mm around the plasterboard sheet perimeter

Place screws 50 mm from sheet corners, no closer than 18 mm to cut edges, and no closer than 12 mm to paper-bound edges

Along the sheet centre-line use daubs of GIBFix One® or a general purpose construction adhesive at nominally 300 mm centres.
To reduce the possibility of localised blemishes such as fastener 'popping' take care to ensure no adhesive is placed within 300 mm of screw fixings.
Moisture content:
The moisture content of the OSB face as well as any timber must be at or below 18% before lining. It Is recommended kiln dried timber is used.
Please note moisture meters calibrated for timber framing can produce a higher reading when testing OSB.
A 20 % reading is acceptable in OSB to represent 18% moisture content.
It is a well-known fact that timber with a moisture content more than 18% may see considerable shrinkage as the timber dries down to an equilibrium moisture content less than 18%. If this shrinkage occurs within a SIP panel, gaps or cracks may open that provide a pathway for the movement of air. This air may contain moisture and if this moisture laden air meets a surface with a temperature at or below the dew point of the air, condensation will occur.
The use of timber with a moisture content of 18% or less will reduce the potential for timber shrinkage and minimize potential issues associated with any shrinkage.
Want to discuss your project? Get in touch here.
Looking for a builder? Check out our build partners around the country